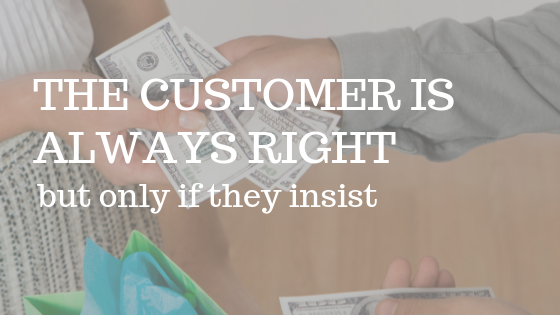 There is a deep-seated myth about customer service: it is not measured by how we are treated when things are going well, it is measured solely by how we are treated when they aren't.
It is a well-established fact that the cost of retaining an existing customer is a mere fraction of the cost of acquiring a new one. This is what puzzles me about a number of recent experiences that seem to confirm that so many companies work hard to push long-term customers directly into the arms of their competitors.
A Master Class in Bad Customer Service
Earlier this week my wife Gimalle and I spent time helping a client prepare for a presentation she was delivering on customer service.
As we were talking with her, I could not help but think back to two recent experiences we have had with companies we have dealt with for a long time.
For many years we have used an insurance brokerage that had its offices in the same building as mine.
They managed all of our general insurance – home, auto and commercial insurance for my office. We always received prompt, professional and courteous service and frequently referred friends and clients to this brokerage.
Several years ago, this company was acquired by a larger one and moved out of the office building. Most of the staff left in search of other employment and almost immediately we noticed the standard of service and attention we had become accustomed to wither, until it finally died.
Several friends and clients had mentioned that they had moved their business to other agencies and last year, after several attempts to have simple questions answered, and numerous phone calls not returned, we moved our home and auto insurance to another broker.
My office commercial policy remained with this brokerage until last month. I received a renewal notice in the mail and, as is my custom, I called several days prior to the renewal date to pay my premium over the phone.
When an agent picked up, I explained the purpose of my call and was transferred to the voicemail of one of the brokerage's agents. His voicemail greeting assured me that my call would be returned within 3 hours.
Two days later, with the 3 hours presumably not having yet passed, I called back and was again transferred to voicemail. The voice mail assured me my call would be returned within -you guessed it- 3 hours.
Finally, on the day my existing policy was due to expire, I tried once more. After being on hold for 12 minutes, I hung up and went in search of another brokerage.
The new broker sent me a form to sign which authorized the transfer of my policy to his brokerage, processed my payment instantly AND emailed me proof of insurance within one hour.
The original broker – you know, the one guaranteeing to return calls within 3 hours, has yet to return my call. This was now 31 days ago.
One week later I called the original brokerage and asked to speak with the manager. I was transferred to her voicemail and left a message asking her to call me so that I might explain why she lost not only our business, but that of several friends and clients.
I'm sure she will return my call any day now.
Another Bad Example
The second experience is even more disappointing.
Approximately 18 months ago I switched my office phone system from a landline to a VOIP system. The experience was nothing short of a nightmare and I wrote a rather scathing blog detailing not only my horrific experience, but that of a client who too had switched to a VOIP system, and whose installation problems had made mine seem insignificant.
Shortly after I wrote that blog, I received an email from the CEO of the company, who offered a sincere apology and connected me with senior management personnel who did a masterful job of resolving all of my issues and those of my client.
They superbly demonstrated the principle of mess up, fess up, dress up.
Gimalle and I have always had our own land lines and when I switched my office system to VOIP, I transferred these two phone lines into the VOIP system.
Our home phones have never worked to our satisfaction, with calls being dropped constantly. Shortly after their installation, I contacted the phone company to request to have our home lines be removed from my office system and reinstated as land lines.
I was assured this was a simple matter and a date was set for a technician to come to our home and make the changes. Gimalle agreed to wait at home for the technician.
The day before the scheduled transfer, she received a phone call from the phone company – you know the one which promises us a friendly future – and was told that they could not proceed as they did not know which company to port the lines over from, did not have accurate billing information for us (we have been customers for decades) and did not have a proper address (we have lived at our current address for 14 years).
Since then, we have attempted on two other occasions to have these lines reinstalled as landlines, only for Gimalle to receive a phone call the day before giving her the same reasons as above for why the installation could not proceed.
To add insult to injury, Gimalle's phone no longer works and when I called the phone company, I was told the only solution is to buy a new one.
I am now paying a monthly fee for a phone she cannot use.
A fourth person assured me he could make this transfer happen seamlessly but, for some strange reason, Gimalle no longer has any trust in this company and will not agree to stay home to await a technician.
She can be most unreasonable at times.
I recently met a person who owns a small VOIP company. I shared with him my tale of woe and he proposed a simple solution. He has offered to port these two lines over to his company and then contact our phone company and have them port them back as land lines for our home.
How embarrassing?
As I was reflecting on these two customer non-service experiences, while listening to my client share some of her terrible customer service experiences, I begin to wonder whether it is possible for some companies to grow and prosper despite their own best efforts to not do so.
Bad Behaviour Gets Rewarded
And then I realized why they are able to do this. It is because of us. It is because we are willing to consistently reward bad behavior and what gets rewarded, gets repeated.
Until the day comes when we, collectively, stand up and refuse to accept subpar performance, many companies will continue to repeat the poor behaviours we are rewarding them for.
And why shouldn't they? After all, it's working well for them.
A good friend recently told me the secret to a happy life is to have low expectations.
A sad truth, perhaps. All too often it seems to be accurate.
Till we read again.